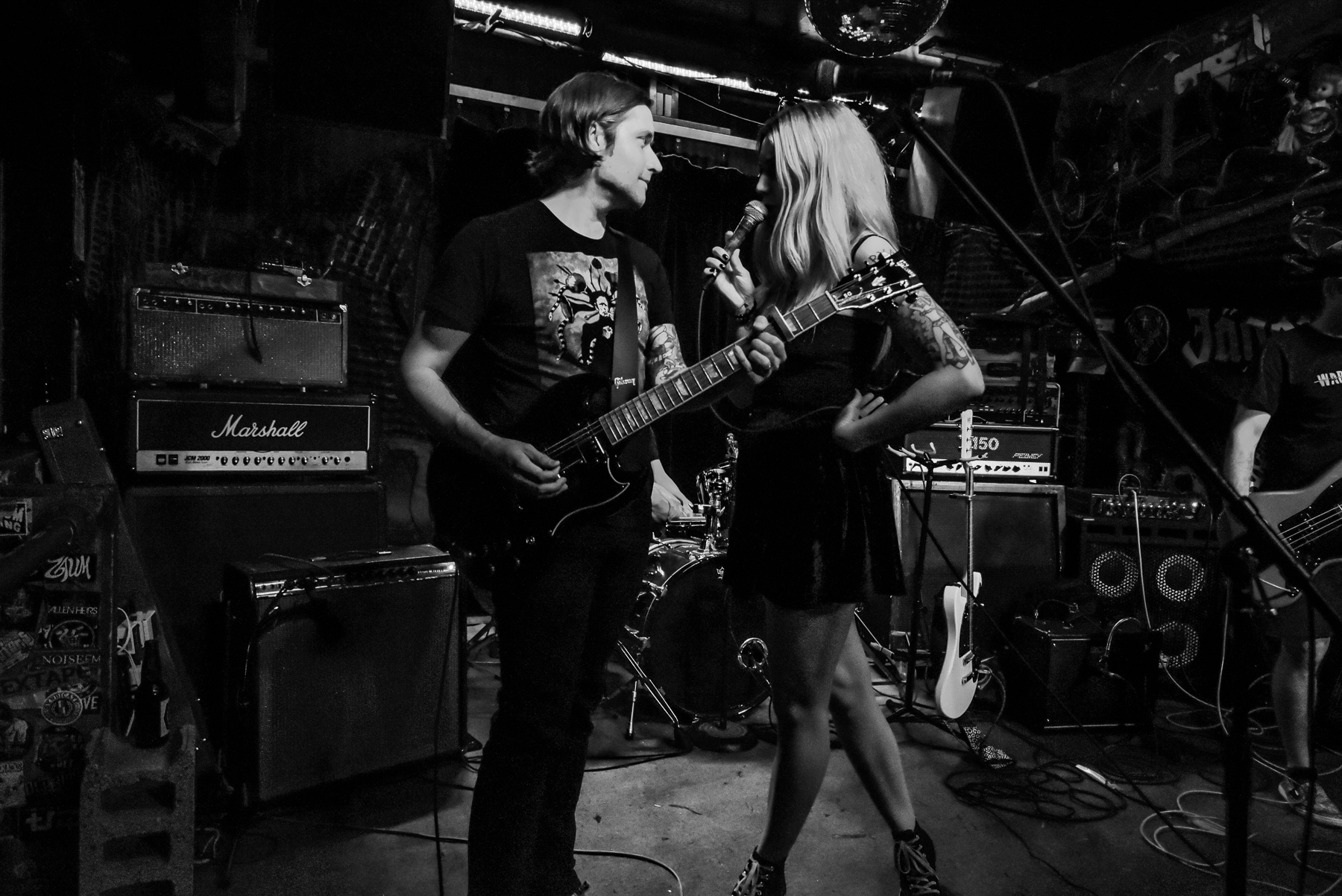 Cursed Arrows released their 9 song album, Crone, on November 11, 2022 on Tarantula Tapes cassette label. At the same time, The Cursed Arrows Oracle (40 card divination deck and guidebook) entered many waiting hands.
Cursed Arrows have performed on big stages and in grassy fields, lived in minivans and haunted basements, appeared on hit TV shows, and have covered more artists than even they can wrap their heads around. Their music seeks to translate and transmute their love and humanity into a listenable format. They live and create artwork, writing and music with their son in close proximity to the ocean in South Shore Nova Scotia.

Questions about booking, or about products on our site? Unsure about sizing or curious if you can request an art commission? We're always happy to chat! Send us a message on our CONTACT page.

Do you have a lengthy attention span? Read our long-form biography below:


Young poet, seeker, and obsessive punk show-goer Jackie hopped into the back of a van to meet guitarist Ryan Stanley in June, 2003. She heard his solo record and fell in love. When at last they met outside of an all-ages punk rock show in Mississauga, Ontario, the Earth shattered. As they joined hands, the cosmos imploded. When they kissed, it rebuilt itself...and so began their shared life of immersion in music and art. In 2007, they released their first album Knives Are Falling From The Sky, and began a 16 year journey of touring across Canada together and recording over a dozen releases as a self-produced guitar-and-drum duo.
With Knives, released on the Ford Plant Recording Co. label, Jackie and Ryan found their footing as a band, starting out with only a beginner drum kit, shitty cymbals, a tiny Ampeg combo amp, a Gretsch hollow body guitar, and their voices. They rehearsed in their below-ground apartment in a converted textile factory in Guelph, Ontario and frequently collaborated with local label/promoters Out Of Sound Records on shows and compilations. They joined their friends at the fabled Ford Plant in Brantford, Ontario for dozens of shows as both attendees and performers over the next several years. It wasn't until their second record, Telepathic High Five released on Noyes Records in 2009, that they felt they'd hit their stride as an active local punk band, becoming staples at Waterloo, Ontario all ages punk venues. Reviews of their second record trickled in from all over the world, and the couple felt bolstered as they forged ahead.
2010 saw their relocation from Southern Ontario to coastal Nova Scotia, where they performed at the usual local haunts, and at Halifax Pop Explosion. They were highly productive and inspired in their new location, chipping away at writing and recording three releases in 2011: Death Rattle Blues (EP), The Madness of Crowds, and Skin Behind the Shroud (EP). Their music became more playful and experimental, incorporating spoken word, vintage drum machines, and other tools they'd previously been afraid to use. Working out of both a shared rehearsal space and their seaside home, Jackie and Ryan underwent immense spiritual and emotional growth during their time by the ocean.
After returning to Southern Ontario in 2012 - to be closer to family - they toured extensively, and created a crowd-funded, fan-driven art project for themselves. They recorded an album's worth of covers of well-known classic songs, each by fan request, and each song was accompanied by a carefully crafted music video. 2013's Sonic Union saw the culmination of their experiences on the East Coast put into album format. This also proved to be one of their most challenging years, complete with harrowing supernatural experiences, but things were not about to calm down just yet.
In 2014, following a quietly recuperative year alongside their friends in Brantford, Ryan and Jackie decided to take a sharp turn. On New Year's Eve, they stayed up all night long and recorded the entirely improvised album Jimmy's Dead. Feeling reinvigorated and ready a fresh start, they recorded Stolen Sex Tapes in their basement and released it under a new band name, Bardos. They saved up a few thousand dollars, quit their grocery store day jobs, bought a minivan, and went on tour across Canada for the latter part of the year. Rarely breaking even and relying on the goodwill of strangers, dumpster diving - and worse - they pushed themselves to live as minimally and as creatively as possible. Ryan's brush with death - a grand mal seizure in the middle of the woods - served as a sobering reminder of nature's delicate balance. Jackie's miscarriage the previous year and subsequent health problems led the duo to a total overhaul of their living situation and priorities.
The couple settled into their shared life in Toronto by the end of 2014. Ryan's art practice and Jackie's jewelry business took root in their Junction-neighbourhood apartment, as did the glorious home birth of their child. Ryan found himself stumbling into accidental acting roles in the TV industry, as they both worked as extras to make ends meet.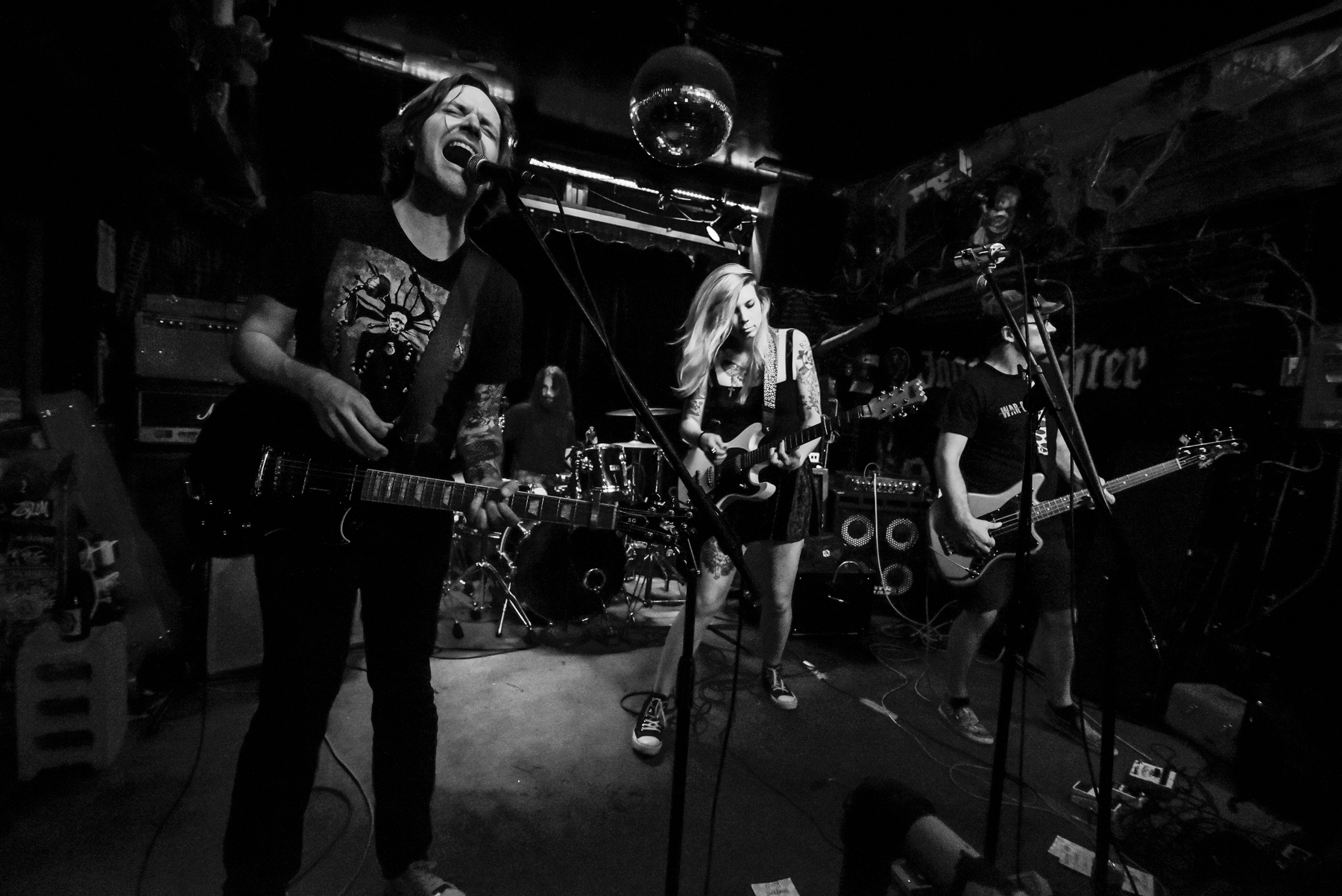 Wishing for more affordability and room to run for their son - and themselves - they moved two hours north of the city to Huntsville in 2017. Here, with their cohort Scott Gray, they recorded 2018's Rebirth, a dramatic musical shift from their comfort zone of distorted guitars and punk rock hollering. The call of the wild works both ways, though, and it wasn't long before Cursed Arrows returned to form, driving 6 hours south to band practice and back, and playing aggressive post punk onstage once more. They released the punk rock EP, Mage, on February 14, 2021 on Tarantula Tapes cassette label.

Not only do they sing about heavy societal and individual problems, but also their solutions. Live shows in 2023 have become sparse, but remained potent. Cursed Arrows have continued to expand their sound into a more sprawling, grinding, exploratory beast. Their music seeks to translate and transmute their love and humanity into a listenable format. They are forever in love - with life itself, its injustices, and its moments of transcendence. Ryan and Jackie created an oracle deck and guidebook and released their full-length album, Crone, both in November 2022.